Well lets just jump into it.
So let me see if I can remember it. A scout must be trustworthy, loyal, helpful, friendly, courteous, kind, obedient, cheerful, thrifty, brave, clean, and reverent. That is the scout law. That is what a Boy Scout must uphold.  Of course now that you don't even have to be a boy to be in the boy scouts I wonder how much of the law still applies.  Take for instance the case of Logan Blythe.

Logan Blythe, 15, is a teenager with down syndrome who lives in Utah with his parents.  Logan is a passionate member of the local boy scouts.   Besides his Down Syndrome Logan also has Autism.  Because of this the local troop has accommodated him and as he earned his merit badges.  And all of this was well and good until Logan went for the highest award a scout can achieve and that was Eagle Scout.  When Logan started his project he was given an initial go ahead until it seems that the national office examined how Logan earned his badges and promptly put a stop to it and stripped him of his badges. (There goes that friendly, kind part of the law and I think the courteous also.)
The national office said that because Logan had assistance (Helpful, hello can anyone hear me?  Is this thing on?) that he didn't actually earn the badges and since he didn't earn them he couldn't apply for his Eagle Scout.
Logan's family has filed a lawsuit against the Boy Scouts of America and the Utah National Parks  Council for "damages greater than one dollar" for "outrageous and reckless conduct and disregard of the emotional well-being of Logan."
"The Boy Scouts have lost their way," Ted McBride, the Blythe family attorney, told KSL-TV. "The local Utah people did not want to enforce this discriminatory policy, but regrettably that turned out to be a bad decision for them. The Boy Scouts have made accommodations for those who identify as transgender, they have even accepted girls into the boy scouts, and they are going to fight this? For what? To protect the prestigious Eagle Scout badge?"
Chad (Logan's father) says the lawsuit is simply to restore Logan's honor. "I want the Boy Scouts to change its policy," he tells Yahoo Lifestyle. "They should reinstate Logan's badges and acknowledge the fact that not all boys have the same capabilities."<source>
Maybe we need to review the Scout Law again.
And in baby news the rise of the gender fluid baby names is on the rise according to Fox News.  According to  Linda Murray, global editor-in-chief of BabyCenter.com there has  been a rise in gender neutral names for children, such as Royal, Charlie, Skylar, Justice, and Oakley.
Here's a few quotes from the article:
We chose a gender-neutral name, Riley, for my daughter," said Lori Kinkler, a psychologist in San Antonio, Texas. "We knew her sex, but gender is fluid and yet to be determined. Of all the difficulties faced by those who live beyond, or across, the binary, we didn't want name-changing to be one of them. … I like that she feels she has options and knows she'll be accepted by us no matter what." Riley is 3.

Kirsten Hammann, 45, in the San Francisco Bay area, and her husband named their daughters Teagan and Sigrid. She considers both names gender neutral.

"Sigrid is technically a girl's name but because it's so uncommon in the U.S. it reads as gender neutral to most people," she said. "The gender neutrality was not something my husband and I discussed explicitly and I would say it was more in my mind knowing firsthand the hurdles women face across so many areas of life. Whether we like it or not, names that skew a little masculine, or less feminine, are perceived as stronger, and I wanted that for my girls."

"We named our baby Avery Morgann. The intention was to give them more room to define themselves as they get older. Also, name changes are expensive and frustrating," said Portland, Oregon, parent C.J. Alicandro, who strives for gender neutrality in all ways for the 2 1/2-year-old.

"We wanted to set up Avery with an opportunity to not be limited as much as possible by a name and be able to choose an identity as much as possible, given the confines that are forced upon them," said Alicandro, a 31-year-old social worker.
Of course I am an old fuddy duddy I remember when we named our children after the names of saints.
Here's an article from the Art of Manliness on how to survive a mugging.  Just click on the picture to be taken to the article.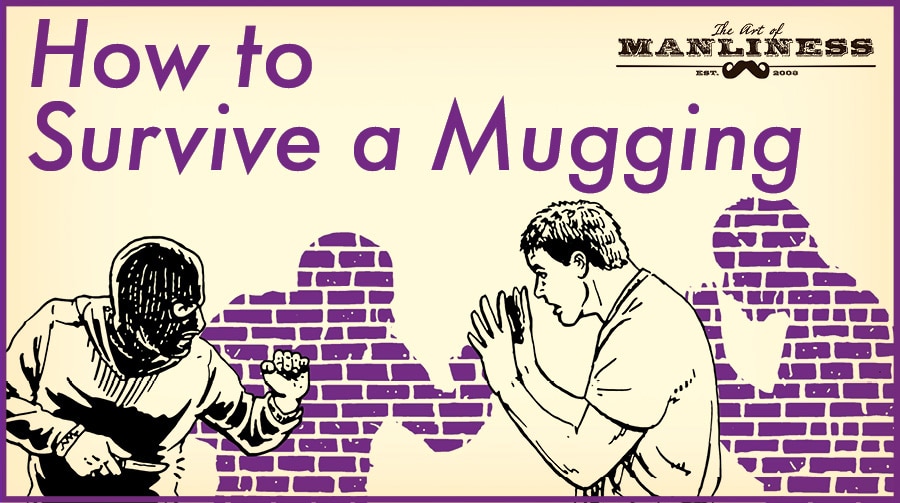 And finally there is a new trend among the millennials. Instead of getting engagement rings the current trend is to embed the diamond into the finger of the person being engaged.