For mature audiences only.
We have a lot of ground to cover tonight, robots, mad scientists, culture of death, cannibalism, christian persecution and fake porn.
So let's start with the fake porn.  So someone called deepfakes has created an easy to use app, no I am not going to tell you its name, that can easily  swap the face of a person and place it upon the body of another one.  Now this isn't new people have done this for years.  However, you usually had to be an expert in Photoshop to be able to do this accurately so that there was no obvious glitches.  No longer this app makes it easy and any person with a basic understanding can create fake or revenge porn.
But that isn't all there are political ramifications to this also.  Imagine putting a politician's face on an ad saying something totally  opposite what they believe or what their party platform is.  Take for instance this deep fake of Donald Trump as Biff from back to the future
Or how about Steve Buscemi's face on Sharon Stone from the iconic Basic Instinct (warning adult content)
So now the question is can we trust anything on the internet?
Have you seen this little cutie?
He is the latest Gerber baby and he has down syndrome. Ruth Marcus in an opinion column in the Washington Post said that she needs to have the right to abort a down syndrome baby. Her article: I would have aborted a fetus with Downs syndrome. Women need that right. She frankly admits that if you consider abortion murder then you wouldn't do this, but not her, displaying a fundamental flaw in her thinking she states that she doesn't consider down children human. Because of their developmental disabilities they are "not the child I wanted".
In response to this article Pro-life Chair of the House Republican Conference Cathy McMorris Rodgers, R-WA took to twitter to respond to the offensive op-ed piece. McMorris Rogers has a down syndrome child herself and said:
she understands how difficult it is "to be told that your child's life is going to be different than you dreamed," but she believes "every baby has a right to life, period."
<source>
Well one of the goals of a certain group of scientists is to create "cruelty free" meat.  Basically meat that isn't grown by animals such as cows or chickens rather it is grown in a vat.  PETA has offered  a million dollars to sell in vitro chicken.   But famous atheist Richard  Dawkins responding to an article about clean meat in the Independent  says why don't we go a step further and think about eating human meat?
But don't think we are at the end of the insanity here. No how about a human-chimp hybrid? A humanzee, according to David P. Barash, a professor at the University of Washington writing  at Nautilus, is an idea whose time has come. And why should we do this? Well according to Darash we need to do this because:
the grotesque abuse of nonhuman animals, facilitated by what might well be the most hurtful theologically-driven myth of all times: that human beings are discontinuous from the rest of the natural world, since we were specially created and endowed with souls, whereas "they"—all other creatures—were not.
Yes we have to do this because David P. Barash wants to deny his Creator. And creating a humanzee would "prove" the continuity between humans and apes and thus evolution.  So ultimately creating monsters, and humanzees are monsters, is just another way to rebel against the creator who made you.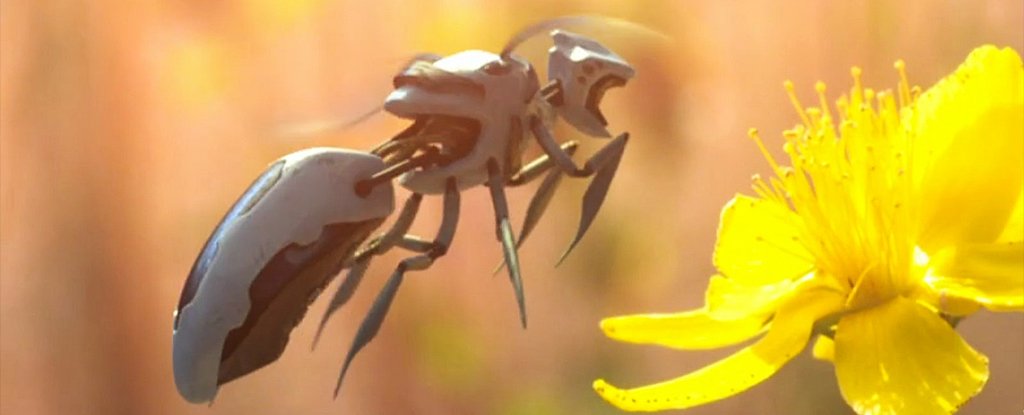 And Walmart, yes Walmart has just filed a patent for robot bees or more correctly pollination drones which can be used to pollinate crops.  The robots would collect pollen from one flower and use it to pollinate another one by means of cameras and sensors to detect where the crops are located.
With the loss of bees over the years , there has been a concern on how to replace them and robotic bees have been in the works.  But this is the first time that, according to the patent, the bees can be remotely controlled and automatically detect pollen.
And finally lets take a trip to Sweden.
Refugees, Muslim and   Christian, trying to escape violence are moving to Sweden.  Except for Christians this move to escape violence has just brought the violence to different country.  Christians have been attacked for wearing crosses in public by Islamists.  Many of these attacks have been on converts to Christianity from Islam.  But not all.  And while these attacks have been on the rise the Swedish government isn't doing anything to stop them.  Pray for the Christian refugees in Sweden.
And good night for Frenetic Friday.